Well I'm away today on vacation and I have one of my fave bloggers, my friend Alyssa taking over my blog today. Man I love this girl. She is not only my friend, but a true fitness inspiration and the bonus? The girl is an editor of literature … I mean … #love. If you don't know her yet, you should read this post then head over to her blog and check her out. I promise you wont be disappointed. Anyway on to the post:
* * * * * * * * * * * * * * * * * * * * * * * *
I've gotta start this post off with the obligatory (but nonetheless sincere!) thank-you to my friend Kay for hosting me on this great little spot of hers while she's jetting around the globe — and to my neck of the woods, meaning we'll finally be meeting face-to-face in just a few short weeks! Score! Anyway, in case you and I haven't met yet, my name is Alyssa and I blog, make lists, and embarrass myself over at alyssagoesbang. (Come on over whenever, the door's always open!)
Kay and I have become pals over the past couple of months and have a ton in common, which has made our friendship so much sweeter. But there is one thing that is actually a really big problem in this relationship.
Kay hates American football. And I absolutely love it.
So now that I've hijacked been invited to share a post on her blog, I figure this is the perfect chance to bring Kay over to the Blue side — Oh yeah, I'm a New York Giants fan. (No, I don't want to talk about how this season's going. Let's just pretend it's still preseason, k?)
Why Kay Should Really Give American Football Another Try
The expressions.
Seriously, football announcers say some of the funniest things. I owe my favorite "um, okay…" lines to the legendary John Madden:
"Football always has been and always will be a team sport."
"They're either gonna pass here or they're gonna run the ball."
"If they don't put some points up here I don't see how they're gonna win this ball game."
You bet, John. You bet. Beyond that, some football terms and expressions are just fun to say — That'll move the markers; He! could! go! all! the! way! — especially when you hear them out of Coach Taylor.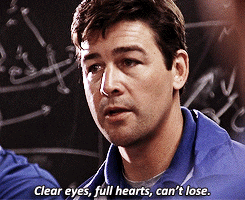 The energy.
Division rivalry or just a regular old Sunday game, the energy at a football stadium is unmatched. Sure, sometimes it can get a little dicey when the beer's flowing and the smack-talk begins, but it's all part of the fun. Game day brings out the beast in all of us, and it's an energy like no other.
The emotions.
Right in the feels…
They'll get you coming and going.
The food.
I don't know who decided that buffalo wings would be the official game day food for the nation of footballers, but I don't hate it one bit. (And I definitely don't hate the sports bar in my town that runs $.25 wing specials all day on Sunday.) Sunday is a day to let go of the diet and be free from concerns about calories and carbs. Pile those chicken wings, that spinach dip, those sliders, and all that taco dip onto your plate and grab a cold one. It's game day, baby.
The commercials.
And I'm not just talking about on Super Bowl Sunday. And I know it's not Thursday but I gotta throw it back for this baby:
The Cinderella stories.
Because in what other world does a 10-6 team wind up in a Super Bowl with an undefeated team and send them packing?
AND THEN show up and send them home again just four years later?
Only on the gridiron, baby.
So help me out here, ladies — are you with me or Kay on this one?
, Alyssa